This looks to be a good year for apples where I live. I have some common, as well as some unusual varieties. I thought maybe some folks might enjoy a thread where I document the apples as they ripen through the year. All of my apples are no spray, so you may see a few bug bites, etc....
I picked my first two apples for the year today. This variety is called Striped June (aka Margaret). They are a small apple ranging from about 2 to 2.5 inches in diameter. The taste is on the tart side, and they cook really well. I've never tried drying this apple but will probably do some this year. By June 15th they will be dropping well and should finish around the end of June - about the time my second apple (Bevan's Favorite) starts coming in. As you can see in the second pic below, most of the Striped June are just beginning to get some red color.
PS - This apple is highly disease resistant to all of the major apple diseases.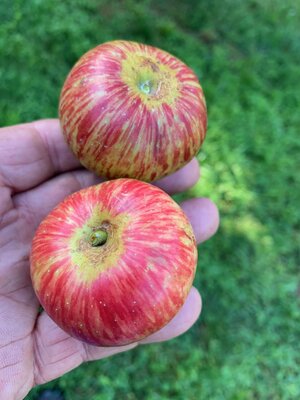 Last edited: