Never ever get in a hurry when dealing with heavy equipment. I've heard that, preached that, practice that since coming out of high school and first running heavy equipment on road construction. But sometimes the mind goes in to neutral if not careful.
So last fall I was rushing to get some seed down and grasses sprayed before the logger was to become active on the farm. I needed to remove the brush hog and attach my sprayer and feeder. It was cold an nasty so I first tried to do so in the barn but could not get the quick hitch to release on the unlevel floor. Aggravated after 3 attempts , I finally pulled tractor our of the barn and do as I usually do, backed over to a level place I typically unhook equipment.
I lowered the 3 point, released the attachment levers, and hopped back on to tractor. And you know what I did, pulled away without detaching mower drive shaft from pto. Of course the 2 sections separated and I should've looked back and checked everything as I moved but did not. First mistake.
I then pulled over to barn, turned and began to back up, but the tractor wheels spun. I thought ,well its been raining for 2 weeks but I didn't think it was that wet, and threw the JD in 4wd. Looking back toward barn but in my stupidity, not looking down to check the 3 point I simply backed her in to the barn. In the process the shaft dug a nice trench along the ground until it bent under the tractor. I Jumped out to hook up my sprayer, and there was the front section of the mower drive shaft still attached to the PTO and bent up under the tractor. I cursed myself and my idiotic actions for the next 15 minutes as I wrestled to get the shaft disconnected from the drive.
Luckily it is a fairly cheap part but should have never happened. I've shared the story repeatedly to others that use equipment as there is nothing better than laughing, or cussing oneself .
Do Not Get in A Hurry!
Btw, notice the rototiller that has not left the barn 9 years since going T&M in plantings. Should put it up for sale I suppose.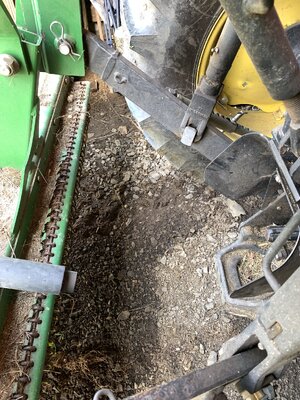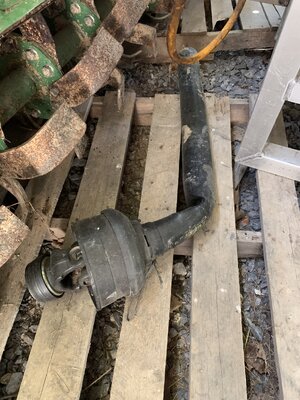 Last edited: