I know it's ongoing joke/debate about tubes and cages. Personally now I've tried both I'd never do tubes again. For one, too much expense compared to a reusable cage. Second, especially for a bushy type tree they don't allow spreading growth. They get wasp nests, pack full of dead leaves, and weeds can grow within. And finally unlike cages the tubes don't prevent browsing. Anyone who ever followed my Foodplotting in the Mountains thread, know I am cheap and lazy. I like one and done. No or little maintenance.
Simple. One post. Four or 5 ft fence. Cut 8 ft length. Place around tree. Interweave cut ends. Done. You can wire tie if want. No mulch. Can spray grass occasionally if you want. I don't. Works w any tree. Your choice.
Did a few pear trees planted last year.
See the browse on this 3yo Silky Dogwood?? Others the deer left alone are 8ft tall. I'm converting all to cages. Wish I took pic after removing tube. Filled w great branches that will spread inall directions creating browse, screening, and propagate more trees via lateral growth.
And btw these Silkies are great for wet areas and are fast growing. I'm standing in 3-5 in water w this pic. Amazing.
I do have Hazelnuts I also originally tuned that I'm setting free. They are in some arid soil.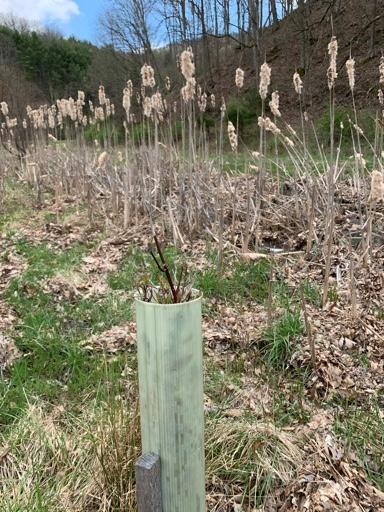 Sent from my iPhone using Tapatalk