So this is my home/farm/hunting property.
I've taken one buck off this property 2 seasons ago. I've taken a handful of doe. I keep much of the property untouched and have really only hunted the fringes of the timber.
First off, the white line is property boundary.
Yellow pins are current ladder stands.
So you have an idea of the lay of the land, I'll start with the drive in from the highway on the east. As you drive west, all the timber south of that road is of higher elevation. The top of the 'hill' is roughly the property boundary. The exception is the small (highlighted green) field just off the road. That is food plot this year (I use that term lightly).
The timber north of the road in is also of higher elevation then everything around it.
You can see a deep draw north of the first pond (by the entrance) and that draw goes all the way to the creek to the north.
The first pasture in the center of the property is where we live. Most of the pasture is horse pasture.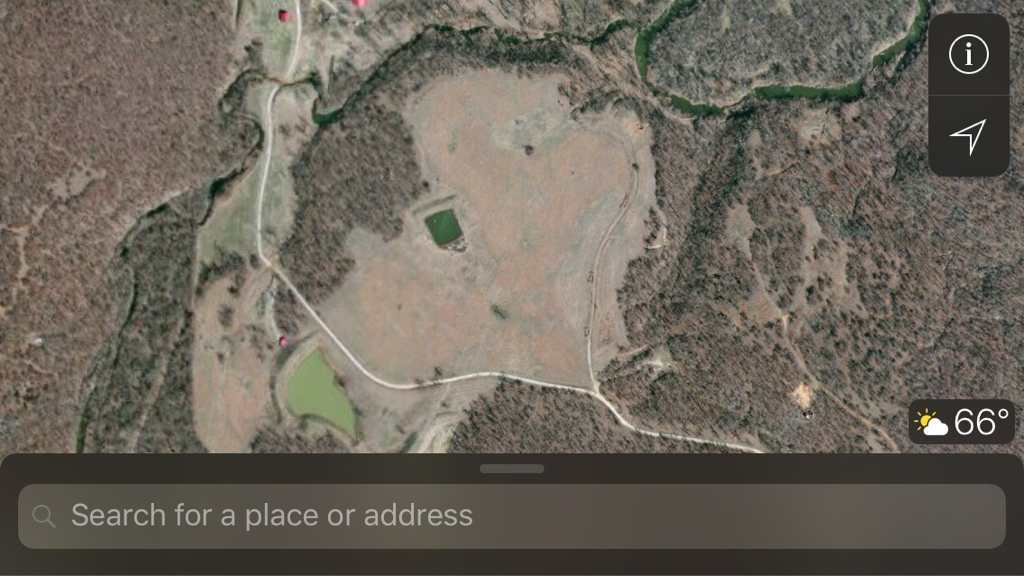 Once the road gets to the west side of the horse pasture (right by the west pond) it drops about 20 feet at least in elevation. This, and the pecan orchard to the north is all of the same (roughly) elevation.

The orchard takes up the majority of the remaining non-timber areas. The big block of timber Southwest of the orchard is also a big hill, the top of the hill being the clear-cut area on the SW corner of the property. I have never hunted it.
Anything near the creek, or feeder creeks drop in elevation another 10-20 feet.
Cover and water is not lacking by any means. We have no Ag nearby. The pasture surrounding property is cattle/hay fields.
KNOW BEDDING: for sure, my stand located furthest Northwest has know bedding in the timber located inside the oxbow of the creek.
I've also seen and busted deer bedding in the small pasture north of the ponds. Surprising really, consider I have two dogs that live outside (within a couple hundred yards from the ponds).
SANCTUARIES: Or, for lack of a better term, areas that I don't usually hunt and hope they hold deer. The big area North and West of my stand that's furthest to the east is kind of open areas with timber mixed in. I leave that untouched. Also the big hill Southwest of the orchard is never touched...
My two stands on the south fence are more or less set for travel corridors based on pinch points and travel east/west around the ponds.
Thoughts on how you would hunt this?
Sent from my iPhone using Tapatalk
Last edited: