I started building my own blinds about 4 years ago. I've made some modifications from the original version. I make them out of 2x3's and there is no floor. Once it's stud framed, I just wrap it in landscape fabric, and I make a door out of 1x4, some truss plates, and brass hinges (be sure to pop your hinge pins and grease them with #2 boat grease). Bend some 1/2" plywood over a stood up 2x4 on top and it's a crowned roof.
I then build a soil plateau to set it on. It doesn't get me very high in the air, maybe 2-3', but it gets me above the ground clutter. I then put landscape fabric down on top of the dirt pad, and then put cedar wood chips over that. The cedar is a nice cover scent, a pleasant blind scent, and eliminates all squeaking and creaking and scratching from a platform or climbing a ladder.
The first one was built for $165. It's probably $250 now thanks to inflation. But this works great for me.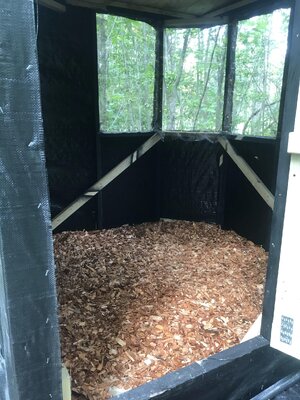 This pad isn't maybe 18" high, but it is enough to keep me above the ground clutter, and leaves me with a flat trajectory shot at the targets.