I'm really lucky these trees didn't smash my stand.
The only reason the one didn't hit it was because it hit another standing and leaning ash and it deflected away from a dead center hit.
These photos show the carnage of dead ash around here. They are everywhere by the hundreds or thousands. And there are countless dead ash that haven't fallen yet. I counted 12 dead ash within 100 feet from this stand.
I wonder how many years it will take for these trees to be laying on the ground and no longer a danger. The next few years definately has some hazards in the woods.
I'm also wondering if there will be a rise in the termite population. There's plenty of food out there for them.
That large one in the background fell in the last month.
The nearer ash is the one that narrowly missed the stand. It's probably 12" diameter.
That leaning trunk on the right side of the the pic is what steered the fallen tree away from the stand. The photo doesn't show it but there is a scar about 20 feet up where the fallen tree 1st made contact. If the tree could have fallen straight down (not deflected by the other trunk) it most definately would have smashed the stand. You can see snapped off ash where the fallen one fell. Not sure if it knocked it over or not.
This is looking straight down. You can see how close it came to falling on the stand...and possibly me, had I been in it at the time.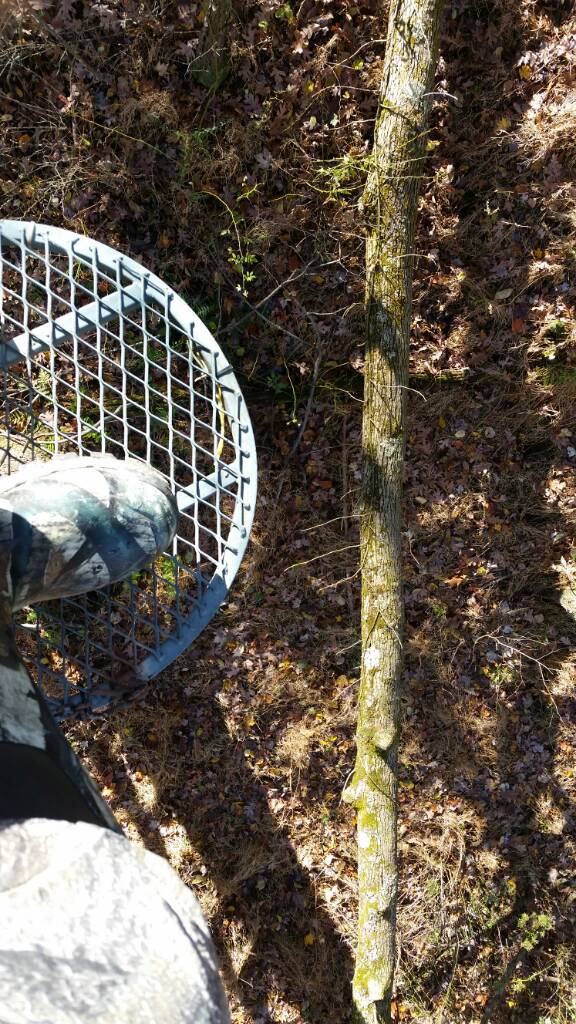 Sent from my SM-G900V using Tapatalk
Last edited: