Today was the opener for our month long Turkey season so I grabbed my gear and headed out the door to the back of our property where I have had a trail cam on a trail since last fall and I have caught a few pics of a Tom and have found a lot of Turkey sign...
As I was easing down the old woods road I heard him gobble so I quickly got situated under a large oak tree with a thin cedar in front of me. I used my box call and got a response about 100 yards away but I knew he was hennaed up so I decided to go silent and hope they worked toward me since I was on a flat between 2 deep hollows and they had been scratching that flat up. After about 20 minutes I saw the Tom fanning his way through the woods and he had 2 hens about 30-40 yards in front of him. The hens kept coming and came within 10 yards of me but decided they didn't like the big lump at the base of the tree (me) so they backtracked and turned to the east and skirted me taking the Tom out of range...once they got out of sight I thought they might be headed toward the south plot so I walked the side hill of the hollow on the west side and made my way to the plot hoping I was making better time than the turkeys. I got to the plot and all was good and I still had a ground blind up from deer season so I got in it to see if the turkeys would show up...about 25 minutes into my wait they popped into the plot in front of me...2 hens, 1 big Tom...I sat and watched these turkeys 20-25 yards away for 30 minutes while they ate clover and just decided to pass on the big Tom. I haven't had any photos of any other toms and haven't seen or heard any others so it just seemed wrong to take the only Tom Turkey anywhere around our area. I wanted him badly to breed With these hens so I just videoed them...here is a photo capture from the vid...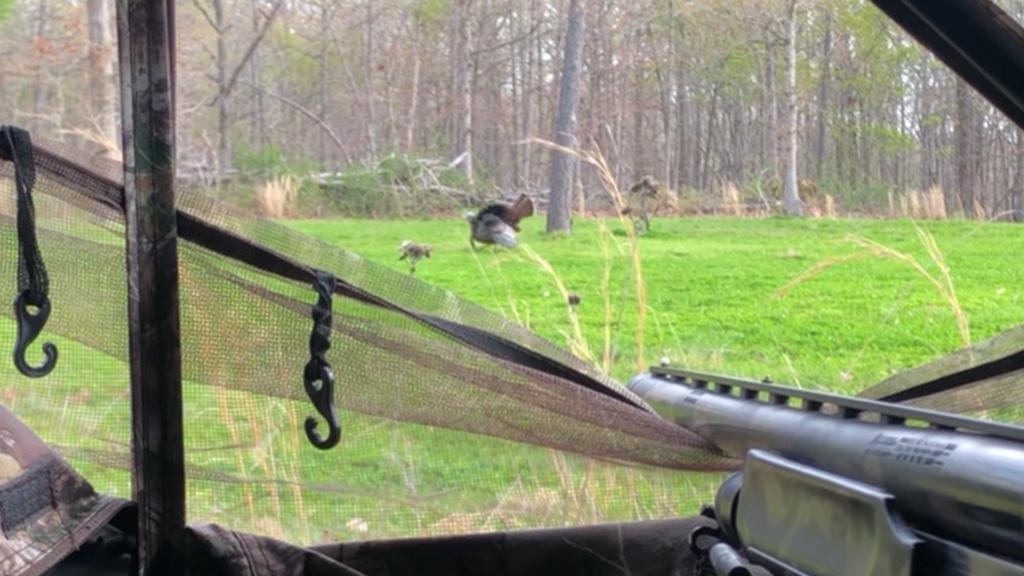 I sure hope some more turkeys move into our area this month...
Sent from my iPad using Tapatalk